View Award - Commanding Officer's Medal of Honor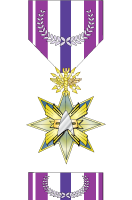 To justify the award, the individual's service must clearly be rendered conspicuous above his or her comrades by an act so outstanding that it clearly distinguishes his or her gallantry beyond the call of duty from lesser forms of bravery; and it must be the type of deed which if not done would not subject the individual to any justified criticism. The deed must be without detriment to the mission of the command or to the command to which attached. This medal is given to a player only once. They must outshine all others on the simm, both IC and OOC and is given for battling overwhelming real life or in character odds to be the best player of the year. Given once a year to the most outstanding player; decided by Administration only, and may only be won by a player one time in his career with the Islandica.
Category: Out of character
Awarded: 1 time
Daniel Balding


Sat Dec 5th, 2015 @ 3:27pm

For Meritorious service and outstanding bravery during the death of Ensign Gonnadie and the Turalek mission.