View Award - Distinguished Service Medal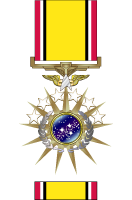 Awarded to members who distinguish themselves by exceptionally meritorious service by being the most active person within the simulation. This person is always posting and goes out of their way to make missions more enjoyable.
Category: In character
Awarded: 0 times
No one has been given this award yet.